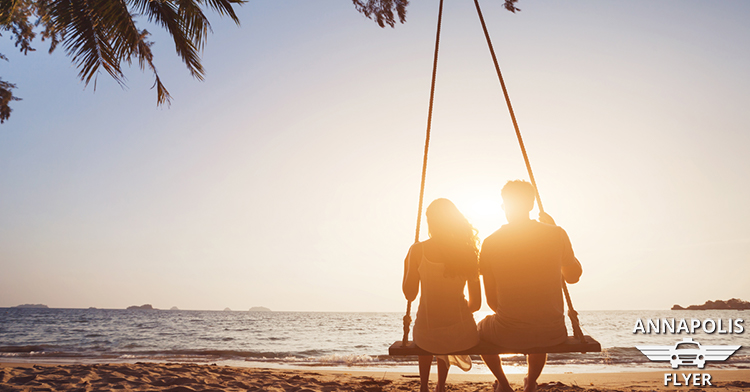 Valentine's Day is right around the corner. But, who really needs an excuse to escape for a romantic winter getaway? Whether you love an adventure in a snowy playground or would instead relax in a beachy paradise, we have ten great romantic winter getaways to excite anyone. If you're wanting a truly romantic snowy getaway where it's winter all year round, you could look into some of the best things to do in Iceland such as view the Aurora Borealis (what's more romantic than sitting under the Northern Lights?) you may even want to hire a rental vehicle from somewhere like Cars Iceland or somewhere similar and take a night ride searching for the Northern Lights.

5 Snowy Playgrounds
Berkshires, Massachusettes
Looking for the quintessential dream-like New England wintry romantic getaway? The Berkshires offers open roads and small towns, even red barns blanketed with sparkling snow. Couples can partake in activities such as cross-country or snowshoeing over mountain trails, or hiking landscapes that looks like a Norman Rockwell painting. Relax by the fireplaces or enjoy a sleigh ride or ice skating. The adventurous can even enjoy winter picnics complete with homemade hot chocolate.
If you are looking for a mountain escape, Jackson Wyoming is surrounded by the majestic Grand Teton Mountain Range. There is no end to the winter activities here! Plus, fantastic wildlife and breathtaking scenery. Resorts here offer ways to indulge and relax. Or, check out a sleigh ride through a herd of a thousand elk. Ski snow-covered peaks or spend the afternoon snowmobiling.
While there may not be deep snow here, Sedona is a scenic desert oasis with fiery red mountains dusted in white snow. The winter days offer milder temps so you can get out and explore canyons, hiking trails, or a hot-air balloon ride. Once the sun goes down, the Sedona skies provide the best light show on Earth; a real star gazer's delight!
Winter in Steamboat Springs is just as you imagine: a picture-perfect postcard of a winter wonderland. Take in a sleigh ride and view some of the most breath-taking scenery on Earth. Experience a magical evening featuring a candlelit dinner in a teepee. Check out the natural hot springs surrounded by frozen landscape.
While visiting the beach in winter seems counterintuitive, Kennebunkport provides the chance for couples to privately stroll beautiful and scenic shorelines. Visit the historic Cape Neddick lighthouse. Experience a seashore trolley ride, partake in wine tastings and lobster bakes. There are plenty of antique stores and artisan shops featuring various crafts from pottery to handmade soaps and lotions.
5 Beachy Paradises
Viceroy Riviera Maya, Mexico
This unique resort is a great place for a romantic beach getaway. Activities include horseback riding, fishing, boating, snorkeling, scuba diving, and parasailing, plus romantic walks down 7 miles of white sandy beach. Relax in the calm surroundings or splurge on Mayan-inspired spa treatments. Take a nap in a handmade crochet hammock and spend the afternoon swimming in the beautiful sea. An ideal romantic vacation spot with private villas surrounded by tropical jungle gardens.
Honua Kai Resort and Spa, Maui
What can be more spectacular than a Hawaiian vacation? This resort located in Maui has it all. A luxurious boutique hotel and spa that provides a tranquil island retreat. You can partake in various outdoor activities, unwind with soothing a massage or spa treatments, or chill by the pool and soak up fantastic ocean views.
Sandals Whitehouse, Jamaica
Sandals is synonymous with all-inclusive resort vacations. And Sandals Whitehouse in Jamaica is one of the best. It is a 50-acre resort with restaurants, duty-free shops, gardens, the largest pool on the island, plus a 2-mile beach. Various packages conveniently include all meals, drinks, water sports, and airport transfers. Some activities include kayaking, windsurfing, sailing, snorkeling, scuba diving, tennis and beach volleyball. If you still want to travel to this fantastic place but are not so keen on staying in a hotel and would rather enjoy the privacy of your own villa, Exceptional Villas has various rental properties on the island available to rent right now.
Bitter End Yacht Club, Virgin Gorda (Carribean)
Bitter End is the ideal winter beach vacation for those who love sailing, kayaking, fishing, and scuba diving. Located on the North Sound of Virgin Gorda in the Caribbean where guests have access to a complimentary fleet of more than 100 sailboats, windsurfers, Hobie kayaks, and other watercraft. Enjoy exciting excursions, or relax by the freshwater swimming pool. The resort is only reachable by sea and has over 70 moorings for those traveling by their own yacht.
Montage Resort Spa, Southern California
Montage Resort & Spa, located on the U.S. West Coast in Laguna Beach, features a beachfront spa, three swimming pools, and excellent dining. Stroll the streets of this delightful artist community where you can browse numerous art galleries, or explore the area's 30 beaches and coves.
The Best Trip Starts with Reliable Airport Transportation
Let Annapolis Flyer Cab be the perfect beginning and ending to your winter romantic getaway. Never worry about getting to the airport on time or waiting for an on-demand driver at odd or peak hours. Schedule your pick-up to and from the airport. We can get you to all the major airports such as BWI, Dulles, and Ronald Reagan International.